WE NOW ACCEPT ALL CHIROPRACTIC INSURANCE POLICIES AVAILABLE IN WAIKIKI, SUCH AS; HMSA, HMAA, BLUE CROSS/BLUE SHIELD, KAISER, ALL WORKERS COMPENSATION INJURY POLICIES, AMERICAN SPECIALTY HEALTH NETWORK (ASHN). UHA, CHIROPLAN (call for details), INCLUDING MOST LABOR UNIONS, DISCOUNTS TO ALL HAWAII STUDENTS THAT HAVE NO CHIROPRACTIC COVERAGE! ALL NO-FAULT CAR ACCIDENT CASES, ALL OFF SHORE/ MERITIME INJURIES ON SHIPS, MILITARY DISCOUNT WITH CURRENT ID. CALL TODAY, WE ARE NOW OPEN ON CALL, BY APPOINTMENT ONLY 7 DAYS A WEEK!
Dr. Charles Smith proudly opened the doors of Smith Family Wellness to the community of Honolulu, HI, in 2012. A fitness coach and impairment rater, Dr. Smith sees a variety of symptoms in his practice, including back pain, spasms, neck pain, scoliosis, auto injuries, whiplash, vertigo, tinnitus, headaches, work injuries, sports injuries, and surfing injuries. He offers a variety of treatments suited to a patient's specific problem, such as spinal manipulation, physiotherapy, activator, decompression, laser bed, and sports massage.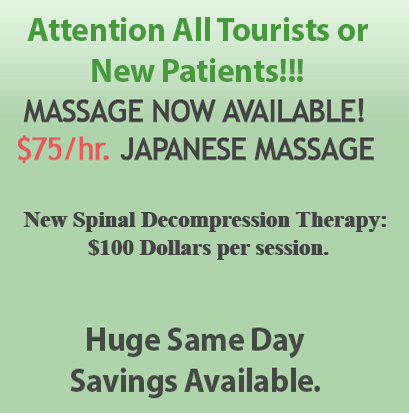 Providing Superior Health and Balance Through Chiropractic For all the people of Waikiki
Located inside the Waikiki Park Heights Hotel,
main floor lobby to the left, by Hy's Steak House
2440 Kuhio Ave at the Waikiki Park Heights
Free Parking and Easy Handicap Access

TEN THINGS YOU SHOULD KNOW BEFORE
CHOOSING A CHIROPRACTOR:
1. Does he have an active and current license.
2. How long has he been in practice.
3. Does he do on-the-go, or home visits.
4. What are his fees.
5. What techniques does he use in his office.
6. What Chiropractic School did he graduate from .
7. What other types of treatments does he use.
8. Does he take Medicare, and does he give Military discounts.
9. What are his hours of operation.
10. What insurances does he accept.
Available Hours
Monday - Saturday: 9am-9pm

"Chiropractic care is more than
just making the pain disappear.
It is about learning, understanding and taking
care of your body to improve your quality of life."
We aim to educate our patients about Chiropractic and other natural solutions to common health problems in order to motivate you to take a more active and responsible role in restoring and maintaining your own health as well as the people around you.

As a chiropractor, we understand that although our patients may be diagnosed with the same condition, they respond very differently to treatments. For this reason, we tailor a specific plan of action to meet your needs, goals & unique medical and physical condition.

Finding a chiropractor who understands changing health care needs and the most current techniques and approaches to addressing health problems can be a daunting task. We hope that you will find this site helpful in learning more about our gentle chiropractic care as well as the ways that it can improve the quality of your life.